le 1er "classicaraid" se déroulera au Maroc du 17 au 24 Avril 2023.
the first "classicaraid" will take place in Morocco from April 17 to 24, 2023.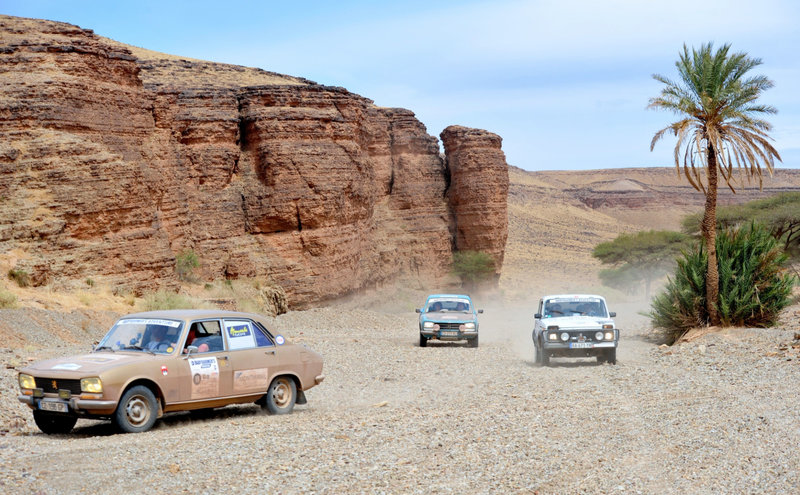 ce raid est une épreuve de régularité et navigation sur les pistes et dans les dunes, réservé aux voitures et 4x4 d'avant 1995.
this raid will be a test of regularity and navigation on the tracks and dunes, reserved for cars and 4x4s from before 1995.
7 étapes d'Agadir à Ouarzazate dans des paysages magnifiques et variés du Sud Ouest.
7 varied stages, from Agadir to Ouarzazate in magnificent and varied landscapes of the South West.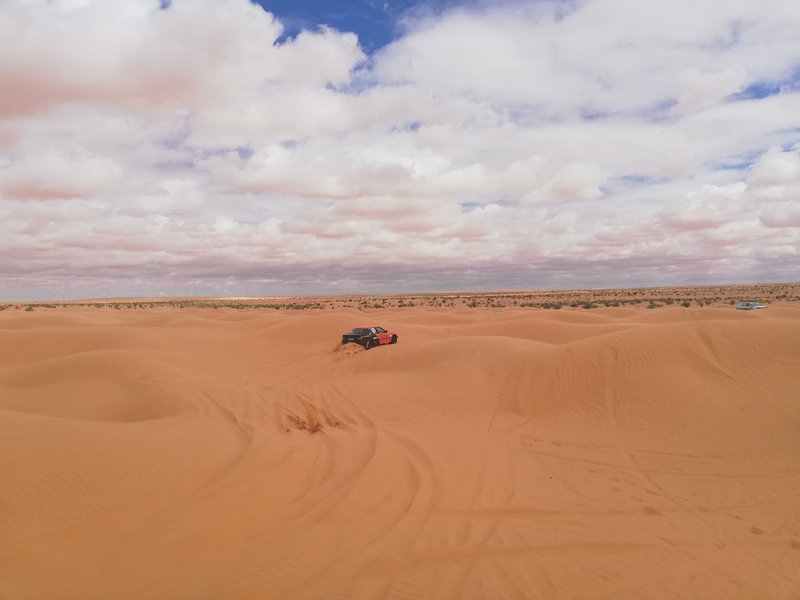 deux catégories: - two categories: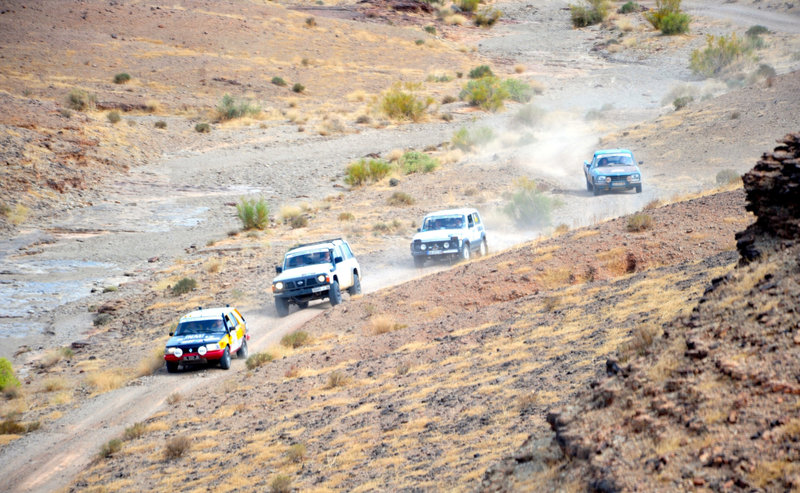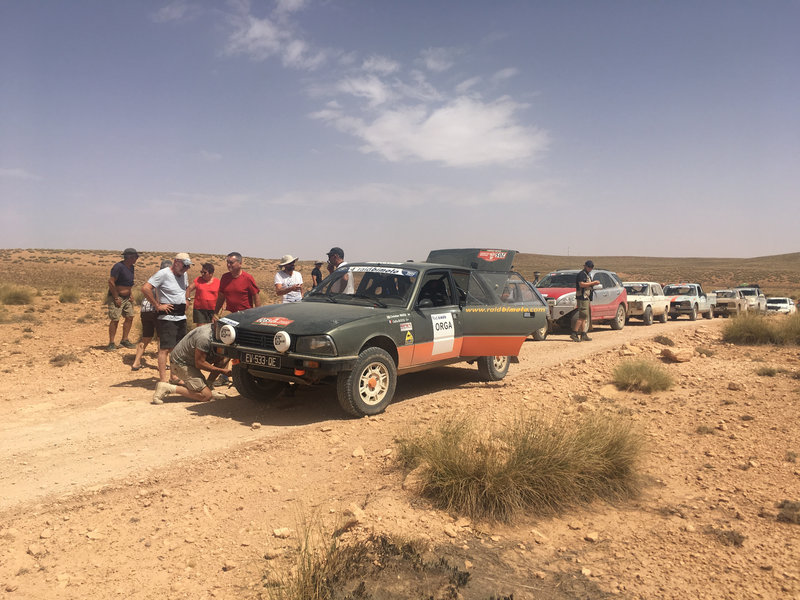 cat.1: 2 roues motrices et SUV - 2 wheel drive and SUV.
cat.2: 4x4 classiques. - classic 4x4s.
votre véhicule devra etre correctement préparé, afin de pouvoir terminer ce raid.
your véhicle must be properly prepared to be able to complete this raid.
cette 1ère édition sera limitée à 30 véhicules pour conserver une ambiance conviviale et solidaire.
this 1st edition will be limited to 30 vehicles to maintain a friendly and supportive atmosphère.
les étapes se ferons au road book (type FIA), à la trace et way point.
the stages will be done with the road book, with the trace (track) and with the way point.
la vitesse maxi est de 100 km/h. sur route goudronnée, 80 km/h. sur piste et de 30 km/h. dans les villages ou palmeraies.
the maximum speed is 100 km/h. on paved road, 80 km/h. on track and 30 km/h. in the villages or palm groves.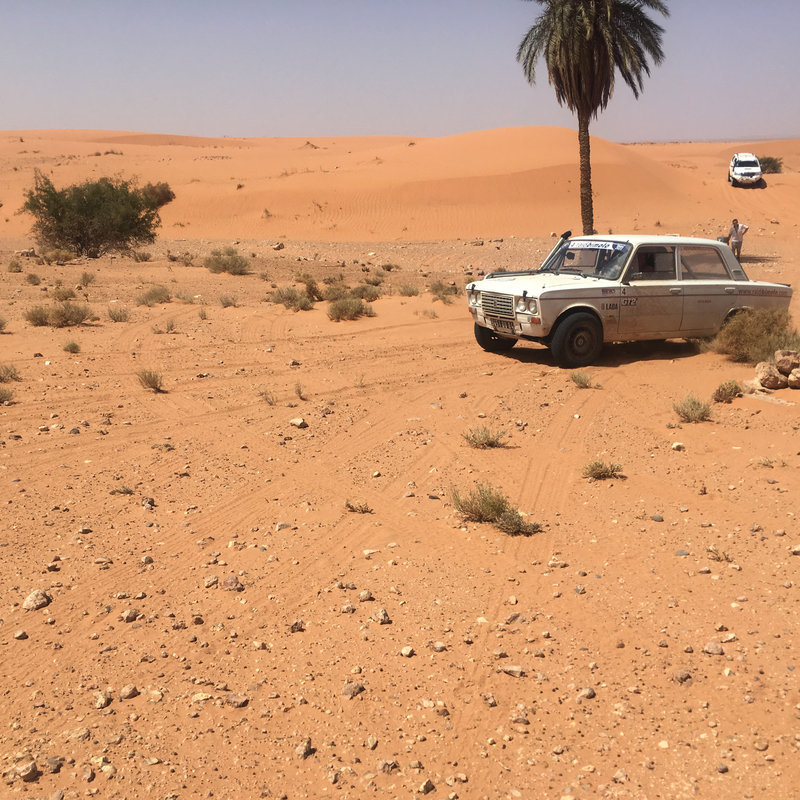 un classement sera établi en fonction des differentes pénalités.
a classification will be established according to the different penalties.
vous serez équipés de balises de sécurité SPOT OWAKA - you will be equipped with beacon (security).
équipe médicale et mécanique vous accompagnerons sur tout le parcours, fermé par un véhicule balai.
medical and mechanical team will accompagny you on all the course, closed by a vehicle of the organization.
le parcours:
étape 0: Agadir - controle administratif et technique - balise - briefing en fin d'après-midi.
administrative and technical control - beacon - briefing at the end of the afternoon.
étape 1: Agadir - Bou Jerif
étape 2: Bou Jerif - Icht
étape 3: Icht - Tata
étape 4: Tata - Foum Zguid
étape 5: Foum Zguid - Ouarzazate
étape 6: Ouarzazate - Ouarzazate
étape 7: Ouarzazate - Ouzazate - soirée de cloture.- closing party.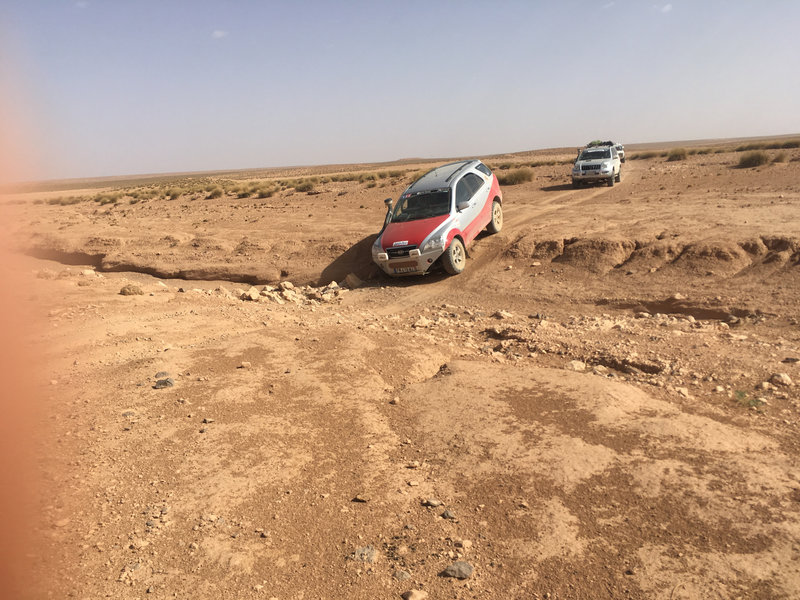 tarifs pour toutes les catégories: prices for all categories:
inscription équipe/véhicule. - team/vehicle registration:
- jusqu'au 15 Novembre 2022 - until November 15, 2022: 800 €.
- du 16 Novembre 2022 au 15 Janvier 2023 - from November 15, 2022 to January 15, 2023: 1000 €.
- du 16 Janvier 2023 au 15 Mars 2023 - from January 16, 2023 to March 15, 2023: 1200 €.
le 15 Mars 2023: cloture des inscriptions - March 15 2023: closing of registrations.
hébergements en chambre double + diner + petit déjeuner pour l'équipage de 2 personnes: 600 €.
accomodation in a double room + dinner + breakfast for the crew of 2 people: 600 €.
pré-inscription: acompte de 250 €.(remboursé en cas d'annulation du raid).
pre registration: advance payment 250 €.(refunded in case of cancellation of the raid).
les prestations de l'organisation: - the services of the organization:
encadrement et logistique: hébergement en demi-pension (8 nuits en chambres doubles).
supervision and logistics: dinners, bed and breackfast (hotels and bivouacs).
road book, traces et way points
balise GPS de sécurité - rental security GPS beacon.
stickage du véhicule - vehicle stickers.
assistance médicale - medical assistance.
assistance mécanique sur le parcours (remorquage) - assistance véhicule on the course (towing).
soirée de fin de raid, remise des prix - end of raid party, awards.
assurance organisation - organization insurance
agence de voyage: Voyages Paradis à Casablanca - travel agency: Voyages Paradis - Casablanca.
à votre charge: - to your account:
carburant et péages autorouriers - fuel and highway tolls.
traversée ferry - ferries.
repas du midi - lunch.
boissons et extrats - drinks and extras.
dépenses personnelles - personal expenses
assurance rapatriement obligatoire - mandatory repatriation insurance
équipements obligatoires: - mandatory equipment:
-GPS (dont vous maitrisez le fonctionnement) pouvant rentrer des way points.
GPS (whose operation you master) able to enter waypoints.
- terratrip fortement conseillé - hightly recommended terratrip.
- 2 roues de secours - 2 spare wheels.
- 2 plaques de désensablage et 1 ou 2 pelles - 2 desilting plates and 1 or 2 shovels.
- 2 ancrages solidement fixés pour encrage de vos 2 sangles de remorquage.
2 solidly fixed front and rear anchors for anchoring your 2 towing straps.
- 1 plaque de protection moteur et de boite de vitesse si nécessaire.
engine protection plate and gear box if necessary.
- nécessaire de camping - camping kit.
pour ceux qui ne disposent pas de véhicules ou qui n'ont pas suffisament de jours disponibles, nous pouvons leur proposer un véhicule de location sur place; nous les prendrons en charge à l'aéroport d'Agadir.
for those who do not have a vehicle or who do not have enough days avaible, we can offer them a rental vehicle on the spot; we will pick them up at Agadir aiport.
le convoyage ou le transport de votre véhicule peut etre également étudié...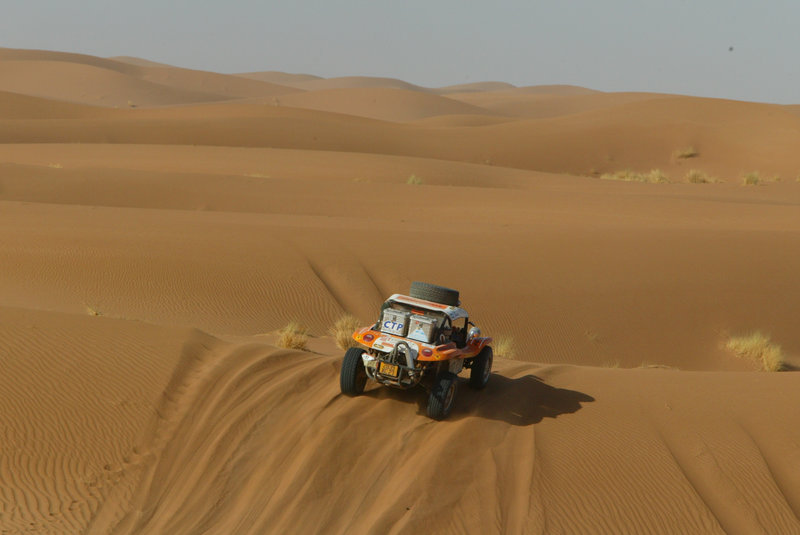 alors, prets à nous suivre ?
so, ready to follow us ?
"bénévoles": vous souhaitez participer à l'aventure, nous vous proposerons un role qui vous conviendra...
informations : raidbimoto@orange.fr
Christian: +33 6 47 47 85 07